I'm one of those people that's on my iPhone all the time checking Facebook, playing Words With Friends, scanning through tweets, etc. Most of the time it's the rhythm of my online addiction that causes me to pull out my phone and start rapidly swiping and pushing on my touchscreen, sometimes not knowing where I actually want to go or what I'm trying to find. On Twitter, I'm following so many people that staying current with my Twitter feed is a real challenge. But last Sunday, amidst the river of tweets I watched speed past my eyes, this tweet interrupted my flow…
I assumed the worst when I first read it, but my gut reaction wasn't confirmed until Wednesday when I saw that Gluten Free Girl retweeted Jennifer's tribute to her husband Mikey.
I don't know Jennifer very well at all. We first met at BlogHer Food 2009 when we sat at the same table for lunch. It wasn't my first food blogger conference, but I remember being really intimidated about being at my first BlogHer event because I am, after all, a man. :) Both Jennifer and Gina von Esmarch immediately made me feel at ease, and we suffered (and laughed) through the trainwreck of Rocco DiSpirito's keynote lunch presentation (where conference sponsor Bertolli thought serving a room full of food bloggers their line Frozen Classic Meals at the St. Regis Hotel was a good idea). After that, just like with many other bloggers I've met, we'd exchange random thoughts via Twitter every once in a while. A year later, I ran into Jennifer in an elevator at BlogHer Food 2010. I stuck out my hand to greet her and reintroduce myself and she said she remembered me, as well, which I really appreciated.
Of course, you don't have to be directly connected to Jennifer to understand the devastation and grief she and her two young daughters are experiencing following Mikey's death — you merely have to have a heart.
Last month, my cousin Moses died suddenly. Like Mikey, he was only 51, which is far too young, especially with three beautiful daughters, grandkids and an extended circle of family and friends that are still reeling from his loss. I met Moses for the first time in March—he was a lot closer to my parents—and found him to be as funny and magnetic as my mom always said he was. I wish I met him sooner because he was a fun guy to be around.
Moses with his daughters Faith, Hope, and Joy.
Jennifer said Mikey loved her Creamy Peanut Butter Pie, and she posted the recipe in her tribute post with one request:
For those asking what they can do to help my healing process, make a peanut butter pie this Friday and share it with someone you love. Then hug them like there's no tomorrow because today is the only guarantee we can count on.
So here's my pie for Mikey. I'd like to think that Moses would've liked this too.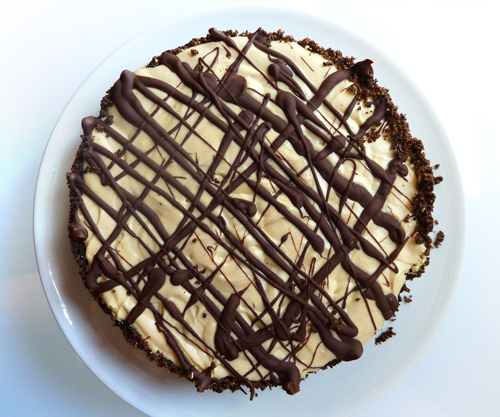 I pretty much followed the recipe to the letter, but I swapped out the 8 ounces of chocolate cookies with 4 ounces of Annie's Chocolate Bunny Grahams and 4 ounces of Newman-O's sandwich cookies (sans creamy centers, of course.) When I got home from the store with all the ingredients, I realized that I forgot to buy peanuts, so I harvested some from two individual-sized packs of Costco trail mix that we have in the house. :P
Creamy Peanut Butter Pie
adapted from Jennifer Perillo of In Jennie's Kitchen
Serves 10 to 12
4 ounces Annie's Chocolate Bunny Grahams
4 ounces Newman O's sandwich cookie pieces (repurpose creamy centers at your peril)
4 tablespoons butter, melted
4 ounces finely chopped chocolate or semi-sweet chocolate chips
1/4 cup chopped peanuts
1 cup heavy cream
8 ounces cream cheese
1 cup creamy-style peanut butter
1 cup confectioner's sugar
1 – 14 ounce can sweetened condensed milk
1 teaspoon vanilla extract
1 teaspoon freshly squeezed lemon juice
Add the cookies to the bowl of a food processor and pulse into fine crumbs. Combine melted butter and cookie crumbs in a small bowl, and stir with a fork to mix well. Press mixture into the bottom and 1-inch up the sides of a 9-inch springform pan.
Melt the chocolate in a double boiler or in the microwave. Pour over bottom of cookie crust and spread to the edges using an off-set spatula. Sprinkle chopped peanuts over the melted chocolate. Place pan in the refrigerator while you prepare the filling.
Pour the heavy cream into a bowl and beat using a stand mixer or hand mixer until stiff peaks form. Transfer to a small bowl and store in refrigerator until ready to use. Place the cream cheese and peanut butter in a deep bowl. Beat on medium speed until light and fluffy. Reduce speed to low and gradually beat in the confectioner's sugar. Add the sweetened condensed milk, vanilla extract and lemon juice. Increase speed to medium and beat until all the ingredients are combined and filling is smooth.
Stir in 1/3 of the whipped cream into the filling mixture (helps lighten the batter, making it easier to fold in the remaining whipped cream). Fold in the remaining whipped cream. Pour the filling into the prepared springform pan. Drizzle the melted chocolate on top, if using, and refrigerate for three hours or overnight before serving.