I called my mom about 5 minutes before No Reservations: Philippines was going to air in California, and instead of greeting me, she said, "Are you watching No Reservations?" It wasn't airing in Hawaii, where I was on vacation, for two more hours, but I did call her to make sure she was watching.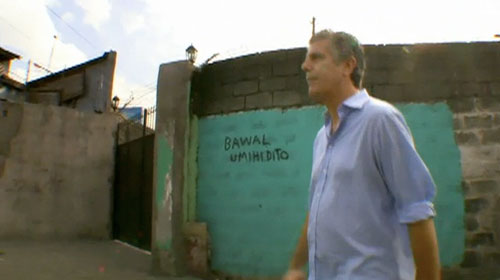 You know Bourdain was in the real Philippines because it said BAWAL UMIHI DITO
(translation: don't pee here) on every wall. :)
If the Pacquiao/De la Hoya fight was the Filipino equivalent of the Super Bowl, I think this block of television devoted to the cuisine of the Philippines might have been our NBA All-Star Game. Granted, 44 minutes isn't nearly enough time to do justice to the diverse cuisine of the Philippines, but I thought the show did a good job highlighting some of the great things about the Mother Islands. Bourdain is also a self-described history nut, and he had a lot of great questions about the cultural and historical influences on the Philippines.
I'm not going to recap the whole episode, but it was nice to see Bourdain fall in love with sisig and lechon, and then later declare that the Philippines is No. 1 on his "Hierarchy of Pork" on his Travel Channel blog.

The street food section that opened the show was good, and I was glad Bourdain got to try Pancit Palabok—even though he didn't think it was "the greatest thing ever"—and the shout out to kalamansi in the segment was nice. Oh…I also want Ivan Man Dy's Adobo T-shirt.
Where do I get this shirt?
Claude Tayag was Bourdain's host during the Pampanga segment, and he was great. He started with goat four different ways, which was right up Bourdain's alley, but a porky love connection happened when Claude introduced him to sisig, the fried pork face dish that might never have been invented were it not for the surplus of pig heads that Clark Air base used to give away in the 1970s.
Sizzing Sisig!
I was chatting with my cousin who lives in Vermont (the state, not the street in L.A.) and she got instantly homesick and hungry during the sisig segment. It must suck to be Filipino in Vermont.
Claude brought some snarkiness to the mix by touting the superiority of Pampanga (big surprise) and saying that "You cannot be Filipino unless you become Pampanga first." Of course, when his wife corrected him, he immediately clarified that you had to know whatever region you're from first in order to be Filipino, a sentiment Bourdain related to since he considers himself a New Yorker first and an American second.
Claude also made an observation that has frustrated me since I was a kid.
"We've always been bypassed by foreign writers. Even in cookbooks—you buy a Southeast Asian cookbook—we're marginally on the sides," he said.
Back in the day, every time I picked up an Asian or world history book or cookbook, the first thing I always did was look in the index for any references to the Philippines, and if there were a couple pages, I considered myself lucky.
Food blogger and lechon master MarketMan of MarketManila.com anchored the Cebu segment. The hand-turned, spit-roasted lechon was a sight to behold with its perfect crispy caramel-brown skin that you could tell was delectable, even on the crappy 19-inch TV at my in-laws house. If you've ever been to a party where lechon is being served, people are always scheming to get the first crack at that pig skin.
"Best Pig Ever." – Anthony Bourdain, 2.16.09
MarketMan's tour of the fish market was great, especially his explanation of the Suki system of doing business. I also loved that he said the clarity and freshness of the first pressing of fish sauce was analogous to the first pressing of olive oil. Basically, MarketMan was dropping knowledge left and right and definitely picked up the slack for Augusto, whose lack of knowledge was glaring and a bit distracting.
See, I can relate to Augusto's Fil-Am experience almost exactly, and I had my share of identity issues when I was growing up. However, I never would have put myself up as a representative of the Philippines or its cuisine—especially on international television—and I've spent more time there than him. Don't get me wrong…Augusto deserves a lot of credit for making this episode possible, but as a guide, he was ineffective. It was the exact opposite of the Korea episode where Bourdain's assistant Nari, while American, had strong ties to Korea and the food, as well as a truly compelling family story.
The show works around this deficiency by framing the narrative around Augusto and his ongoing search for his roots, but in the end, I thought it painted young Filipino Americans as lost souls. But Augusto's Fil-Am experience is essentially the same as thousands of American-born Filipinos, including me, and as Moonie at PinoyLife noted, the fact Bourdain even brought up this topic "made this episode more historic in the realm of Filipino identity in America."
As Bourdain himself observed:
It occurs that however badly he wants to be a Filipino, to reconnect with his roots, however hard he's worked to make that happen—practicing the language, reading up, cooking the food, digging up family memories—he's still American and to some extent, still new to this part of the family. Not a stranger like me, but an outsider of sorts just the same.
Although I would have preferred that the episode focus more on the food than Augusto's search for his culture, Augusto deserves a lot of credit for actually wanting to learn more about his culture, especially when it would have been easier for him to ignore it. Of course, Augusto's story did set up Bourdain's insightful take on Filipinos and identity that closed the show.
"If there's anything smart I can say on the subject of national or ethnic identity in general, watching Filipino American Augusto with his Chinese American wife, and—I guess these days—a typical American baby, I think maybe the whole concept is getting quaint and kinda outdated. Who are we really? Increasingly…wherever our hearts are."
Overall, I thought Bourdain and his crew did an excellent job of showcasing the Philippines without being sensationalistic or cliché, but that's what he's done for every other country or region he's visited. A visit to the Philippines was long overdue, but the wait was worth it, and I hope he goes back for more.
Thanks Tony for shining a light on Philippine cuisine and for giving the Cebuano Lechon the title of "best pig ever."
And though I may sound critical of him in this post, a big thanks to Augusto for being curious and proud enough of his culture—even if he didn't fully understand it—to take the initiative to send in his entry and remind Tony that the Philippines was always right under his nose.