I know it's been awhile since I've written, and I could offer any number of excuses for my hiatus, but I'll go with this one…
After more than five years of working in the sleepy suburban town of Livermore, CA, I started a new job in downtown Oakland last month, and this change of scenery has led to several adjustments to my daily life. I no longer drive my car to work and am happily commuting via BART. This requires both my wife and I, who are notoriously late risers, to wake up a lot earlier than we're used to so that I can catch the train every morning. While the drastic reduction of our overall fuel consumption has been good for the soul, my new office has been excellent for my stomach. It's location at Oakland's 12th Street City Center puts me blocks away from dozens of great lunch options, a world away from the limited options available to me in Livermore.
Before my first day of work, I began compiling a list of recommendations from friends who knew the area well and I combined them into this Google map.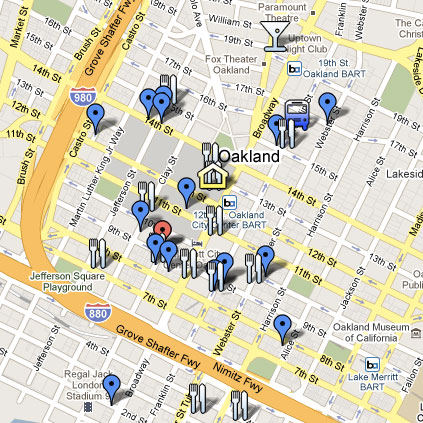 Downtown Oakland's all about options. (click to open map).
I was most excited to be near Oakland Chinatown, which is smaller but generally better than the larger "tourist trap" Chinatown in San Francisco. Ironically, my two favorite places in Oakland Chinatown aren't Chinese.
Cam Huong
Cam Huong is a hole-in-the-wall Vietnamese deli that serves up a variety of hot and cold Chinese and Vietnamese dishes, but I go there for the bánh mì (Vietnamese sandwiches) and fresh spring rolls. I went back the other day and got the #1, which is a cold cut combo with pate (hold the cilantro because I can't stand the stuff). With the fresh bread, delicious meats and the pickled veggies inside, this is a perfect sandwich.
Cam Huong's #1 is aptly named.
I always supplement my sandwiches with a three-pack spring rolls, and I really like the variety pack with goi cuon, bo bia and bi cuon (summer roll, sausage roll, shredded pork roll).
A spring roll three pack.
The sandwiches are all under $3, and when you include the spring rolls, I get out of there for just under $6. This makes the Subway $5 Footlong look like a bad deal. Next on the agenda is the grilled pork and cha gio bun, one of my all-time favorite Vietnamese dishes. I hope there's a table open next time I'm there.
Cam Huong Cafe
920 Webster Street
Oakland, CA
510.444.8800
Battambang
Battambang is a Cambodian restaurant just a few blocks down the street, and it's already one of my favorite lunch spots. This is the dish that got me hooked…
Moarn Aing – grilled chicken skewers.
…and this is what I ordered on my return:
Lunch Combo – grilled chicken, beef, and shrimp skewers with fried rice.
I haven't had a lot of Cambodian food, and I'm sure there's more to the cuisine than grilled meat, but I'd seriously consider forsaking all other skewered meats to settle down with either of these dishes. If I had to choose, I'd stick with the combo for variety and the fried rice, but the spicy lime sauce it's served with really pulls both of these dishes together. When I first saw it, I thought it was going to be similar to Vietnamese nuoc mam, which is one of my favorite things, but I really like the spicy lime sauce a whole lot more.
Looking over their menu, there's a lot of other dishes I want to try, but the grilled meats keep me happy for now.
Battambang
850 Broadway
Oakland, CA
510.839.8815
Web site
—
I'm thinking of making Eating Downtown Oakland a running series, and there are a bunch other places around here that are worth discussion. Cam Huong and Battambang were fast favorites, and I can't wait to see what else I can find in my new urban playground.