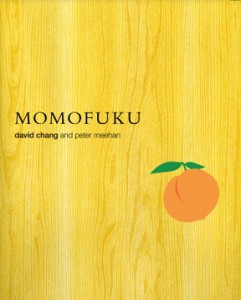 I've had Momofuku on my mind and in my stomach the last couple of weeks, so I'm declaring this week Momofuku Week at Inuyaki. It's kinda like Shark Week, only tastier (unless you're really into shark meat).
After getting my feet wet making the bacon dashi that inspired my Bacon Agedashi Tofu post, I went to a book signing with Chef David Chang and author Peter Meehan at Sur La Table in the San Francisco Ferry Building a few days later and got to show them my creation in person. (Chang's response: Oh, cool!) We also had a brief discussion about the simplicity and goodness of bacon dashi.
Note: The actual signing wasn't as boring as this sounds. Chang and Meehan had a lot of fun with everyone and engaged in a bit of scrapbooking for every book they signed. Here's some pictures, including this gem:
I'm so cheesy. And why do we look so bloody happy?
The recipes in Momofuku range in difficulty from dead simple to fairly complicated. Chang even apologizes for some of the more complicated ones like his chicken wing recipe, which he says "…is the world's longest recipe for chicken wings. Sorry. But they're very, very good chicken wings."
I chose to focus on some of the simpler recipes to start, but as with all cooking, simple doesn't necessarily mean easy and often depends on your whether or not your willing to do some prep work.
That said, Momofuku Week officially starts tomorrow. First up: Momofuku Pork Belly!