I'm in charge of Christmas dinner again, and I'm still a little torn on what I should make. The adventurous part of me wants to take a rib roast and separate the cap meat (i.e. calotte, deckle) from the actual ribeye…kinda like this: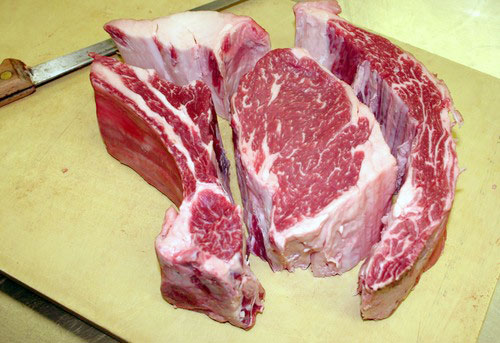 From left: ribs, eye, cap.
Picture from Ideasinfood.com
Then I can cook the cap meat sous vide to a nice medium rare in attempt to partially recreate this dish:
The French Laundry's Calotte de Beouf Grillée (12.08.08)
For the center cut, I would oven roast it to medium rare and end up with a sort of deconstructed prime rib cooked two ways.
The other part of me wants to go old school and roast a nice beef tenderloin or standing rib roast. I've been successful with rib roasts before but have never tried a tenderloin. But as old school as a tenderloin roast might sound, I'd probably endup cooking that sous vide anyway.
Aside from the main courses, Yorkshire puddings are definitely on the agenda, and I think my wife is going to make her garlic bacon mashed potatoes. I am extremely tempted to make this Macaroni and Gravy recipe by fellow food blogger Lainie as a second entree, and I know my cousin Cristy, who hosted Thanksgiving, has something up her sleeve.
If you're looking for some Christmas recipes, you might want to give these a try:
I'm not sure if I'll be posting again before Christmas, but if I don't, I hope everyone has a happy and safe holiday season!