I know we were just at Ad Hoc 11 days before, but I made our New Year's Eve reservations way before they put grilled short ribs on the menu the same day we were going to The French Laundry. And I certainly wasn't going to turn down a special end-of-2009 dinner of Prime Ribeye and Maine Lobster with Truffle Butter.
Prime Ribeye and Maine Lobster with Truffle Butter
I've had ribeyes at Ad Hoc before, but this was the first time Ad Hoc was allowed to serve the calotte (ribeye cap) alongside the ribeye. Normally, the calotte is trimmed from the rib roasts and sent up the road to The French Laundry where they serve it like this:
The French Laundry's Calotte de Beouf Grillée (12.08.08)
You know how prime rib has that ring of meat on the outside that tastes way better than the middle? That's the calotte. If you're a real fan of beef, you already know that the calotte is considered the best part of the cow because it's tender and loaded with flavor, and chefs have been known to save the calotte for themselves.
Ad Hoc Blowtorch Prime Rib
Here's the ribeye broken into separate components.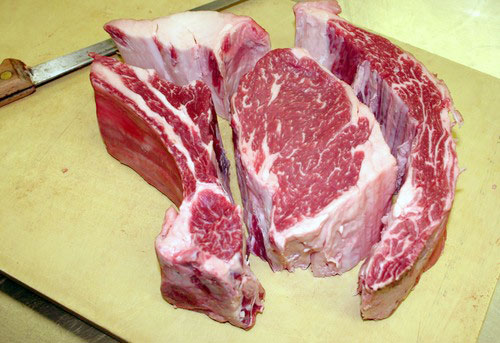 Anatomy of a ribeye, from left: rib bone, the eye, and the calotte.
Picture from Ideasinfood.com.
Everything at Ad Hoc is served family style, but they portioned each platter so that everyone at the table got two pieces of calotte, two pieces of ribeye, a whole lobster tail and a whole lobster claw. It was served with steamed broccolini and Carolina red rice with black eyed peas. I don't mean to besmirch the meltingly tender lobster—the whole claw fell out of its shell when it was picked up—the perfect medium-rare ribeye, or the accompaniments, but really…this meal was all about the calotte. It was especially gratifying to find out that the calotte and lobster tail were separate courses on The French Laundry tasting menu that evening, as well.
A full plate of food to close out 2009.
Normally, you can ask for seconds at Ad Hoc and they'll oblige, but not on this night. It wasn't a problem because my wife gave me some of her calotte because she was getting full and saving herself for dessert. The Chocolate Bombe was a dark chocolate hazelnut mousse served with caramel sauce and hazelnut brittle, a lovely way to end 2009.
The Chocolate Bombe was the bo— nevermind… ;)
Here's pics of the rest of the meal:
And here's Cibo Matto's – Know Your Chicken on YouTube to ring in 2010!