Canned bacon isn't nearly as disturbing as the Cheeseburger in a Can, but it seems just as pointless. I mean, how could this be better than picking up some fresh bacon from the store?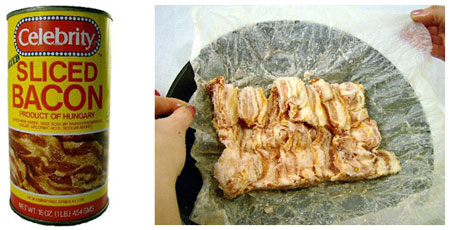 According to canned-bacon.com, Celebrity Foods released this product in Hungary almost 20 years ago, and it was discontinued by K-Mart in the United States around 10 years ago. They also have a 20-year-old can of their own that they decided to open so they can duplicate the concept for a new product they're developing.
We've tried other forms of packaged, pre-cooked bacon, and they've been good, but not better than freshly fried bacon. I'm not really sure if I'd give canned bacon a try, especially if it's 20 years old, but there is room for it on our shelf next to the SPAM.