One of my earliest Chinese food memories is enjoying my fair share of
egg foo yong
and sweet and sour pork from Empress Pavilion, China Palace, and my favorite,
Lui's Kitchen (Facebook fan page)
in Saugus, CA. Lui's was the closest of these restaurants to my house and my gateway Chinese restaurant, but in my mostly white suburb, I had no idea we really eating American Chinese cuisine. Today, despite my expanded knowledge and appreciation of "real" Chinese cuisine, I'll never give up my love for the Americanized subgenre.
I recently started buying old cookbooks at a used book sale that's held biannually at work, and one of my favorites is "The Chinese Cook Book" by Wallace Hee Yong. I picked it purely for the kitsch factor since it was published in 1952 and is an encyclopedia of Chinese American classics that most of us have eaten at some time in our lives. The book has been sitting around since I got it, but yesterday I decided that I was going to use it to make some dinner.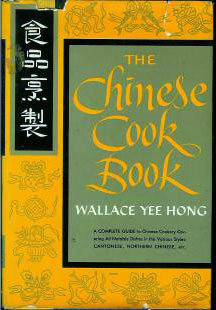 The egg foo yong recipe is pretty simple, but I did make a few changes. One change most people will probably make is to eliminate the "seasoning salt," the 1950s word for MSG. I chose to leave it in but will probably leave it out next time I make it (even though my wife loves the stuff). I also left out the bean sprouts and celery because I just don't like them. Just add a little more of the other ingredients to compensate.
I used ground beef in this version, but any kind of meat or fish can be used. The recipe also says to cook the egg foo yong in 1-1.5 inches of oil or lard, which I found a bit excessive, so we used a thin layer of bacon fat leftover from breakfast and mixed with peanut oil.
INGREDIENTS
4 eggs, beaten
½ cup cooked ground beef (or use your favorite protein – chicken, pork, fish, etc.)
½ cup onion, chopped
½ cup bean sprouts
¼ cup green onion, chopped
¼ cup mushrooms, chopped
¼ cup celery, chopped
1 teaspoon MSG (optional)
½ teaspoon salt
¼ teaspoon pepper
¼ teaspoon garlic powder
DIRECTIONS
Mix all the ingredients together in a bowl
Heat desired amount of oil or lard in a small frying pan until it just starts to smoke
Divide the batter into 3 or 4 portions or use a ladle to dispense desired amount into the frying pan.
Fry until both sides of egg foo yong are golden brown
Dry on paper towels and serve with brown gravy and steamed rice.
I also made the book's stir-fried beef with tomatoes, which turned out nicely even though I cooked it out of order. I'll make it again before writing about it, and I expect to be cooking a lot more recipes from this book so stay tuned for more!