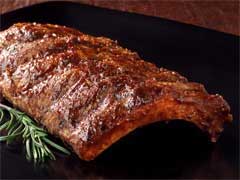 This is an easy, no-hassle way to make great baby back ribs at home.
INGREDIENTS
1 rack of baby back ribs
your favorite spice rub
your favorite BBQ sauce (for glazing the ribs)
DIRECTIONS
Sprinkle rack of ribs with your favorite spice rub.
Place meat on a rack with meat facing outward and fatty end of the rib at the top. You'll probably have to "curl" the meat so it fits in the pot, or if you have an oval slow cooker, you can cut the slab in half and stand them up like a teepee with the fatter end of the ribs at the top.
You don't really need any liquid for this recipe, but if you want you could add a few drops of liquid smoke to the pot.
Cook on low for 8-10 hours. It's done when the rib meat shrinks from the bottom of the rib about 1/4 inch or you can pull on the rib bone and it loosens from the meat.
Before you take out the ribs, baste it with your favorite sauce and cook for 10 more minutes.
After 10 minutes, take out the ribs and eat them!